I'm really sorry I missed Faithful Friday last week. I pretty much spent four days in the bed, but I'm back today!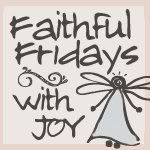 I'd like to share something with you that I don't believe I've ever shared.
I love Psalm 91. It's a prayer of protection. It's a prayer that I pray over my family. There have been many "little" instances where God has protected us by urging us to not go a certain way or delaying us which has saved us from harm.
I also know my mother prays this over our entire family every single day.
Psalm 91
"Whoever dwells in the shelter of the Most High will rest in the shadow of the Almighty. I will say of the LORD, "He is my refuge and my fortress, my God, in whom I trust." Surely he will save you from the fowler's snare and from the deadly pestilence. He will cover you with his feathers, and under his wings you will find refuge; his faithfulness will be your shield and rampart. You will not fear the terror of night, nor the arrow that flies by day, nor the pestilence that stalks in the darkness, nor the plague that destroys at midday. A thousand may fall at your side, ten thousand at your right hand, but it will not come near you. You will only observe with your eyes and see the punishment of the wicked. If you say, "The LORD is my refuge," and you make the Most High your dwelling, no harm will overtake you, no disaster will come near your tent. For he will command his angels concerning you to guard you in all your ways; they will lift you up in their hands, so that you will not strike your foot against a stone. You will tread on the lion and the cobra; you will trample the great lion and the serpent. "Because he loves me," says the LORD, "I will rescue him; I will protect him, for he acknowledges my name. He will call on me, and I will answer him; I will be with him in trouble, I will deliver him and honor him. With long life I will satisfy him and show him my salvation."
I want to share a story that happened to my brother when he lived near us (about 20 years ago). He was working in a town that doesn't have a very good reputation for being the safest (and he was carrying money which folks probably knew because it was his line of work). He was driving his truck down the road when he passed a man with a hood on his head and both hands hands in his pocket. As Richie passed him, he said something just didn't feel right about it and as he looked in his rear view mirror, he saw the guy pulling something from his pocket and the next thing he knew the back glass of his truck was shattered. The man had fired a shot at him. Richie made it home, all shaken up of course! The police were amazed that he was alive. You see they found the bullet lodged in the head rest of Richie's seat (at the back of his head). They really didn't understand why it didn't go all the way through but instead was hanging, lodged in there. But
we knew
. And we praised the Lord that He saw fit to protect Richie for all harm and evil intended for him that day. We rejoiced that he would be here to watch his then only child grow up. Of course since then, he's gone on to have two more children and adopt two more growing his family to five children. As a matter of fact, his oldest (that was about two at the time) is here with us this week. He and his wife, Shauna, are spending the week with us. We've been having a good time with them. I love it when they come.
Cute couple (ugly staircase behind them)! lol!
I look at Trey (and the other four children) and think how grateful we are that God protected Richie that day!
Would you like to share something from your Christian walk too? We'd love it if you did! Just do your own post and link up with Joy
here
. You can grab the button from her blog or from the "button" tab at the top of my page. Whether you participate or are just stopping by to read, thank you so much!
**********************************************************************************************************
And since I promised last week to share the
very difficult :)
strawberry cake (that I had for my birthday), and didn't get to do so, I will do that today. I will be linking it to
Lois of Walking on Sunshine
for Foodie Friends Friday.
Are you ready for this? It's
SO hard
! :)
Mama's Strawberry Cake
1 box of strawberry cake mix
A can of strawberry icing
A carton of frozen strawberries in syrup. (I think it comes in a pint).
Bake the cake according to the box directions. Let the cake cool. Ice it with the strawberry icing. Spoon the carton of frozen strawberries evenly over the cake. Then spoon the left over liquid part over the cake evenly.
**It's best to bake it a 9 x 13 glass dish and just leave it in the dish so the strawberries and their syrup will not run off and so it soaks into the cake better making it deliciously moist.**
Enjoy!
Told you it was SO HARD! Didn't I? It is so simple and everyone thinks it is so moist and it tastes much fancier than it takes to make it! There are always compliments on it. But shh…..don't tell anyone that it's super simple! They'll never know! It's my favorite! I always ask for this for my birthday.
Thanks so much for stopping by! Have a great weekend! :)