It's Friday and for me, that means it's time for Faithful Friday! Joy (my daughter) started Faithful Fridays a few years ago as a day set aside to share something from our Christian walk. It was her desire (and mine) that by sharing, we will encourage others!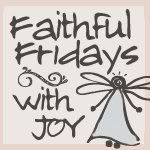 I've been thinking on what I wanted to share all week. Since Sunday's sermon made an impact on me, I decided to share that today.
At church (on Sunday mornings), we're going through a series called "Myth Busters". Our family has missed the first two Sundays of this series because of being out of town and sickness, but this past Sunday, Pastor Alex brought the "myth buster" message. This quote was his starting point:
Preach the Gospel at all times and when necessary use words.
~ Sir Francis of Assisi ~
I have to admit that when I saw that [quote] on the big screen and knew that the message was pertaining to "myth busters", I was a little disappointed. Joy, sitting next to me, flashed me a grin. She knew how much I love that quote. And seeing that the title of the sermon was "myth busters" I figured he was about to shoot it down! Sigh!
But as Pastor Alex preached, my eyes were opened. He was right.
The Bible says:
So then faith cometh by hearing, and hearing by the word of God.
Romans 10:17
Notice that says by
hearing
the Word of God?
Now I still believe that quote is still a great one. But here's the thing. Just saying that I'm doing enough of being a witness or showing Christ by the way I live my life is not enough. It
is
good to show Christ by the way I live. But it can also be a crutch for not having to speak out or tell others what God has done for me.
It should be a blend of both.
The flip side of this (telling others about Jesus but my life doesn't reflect it) is not enough either and could actually be worse. What if I tell others I'm a Christian and/or what God says or has done for me and I go to church every Sunday, but then those same people see me out somewhere on a day other than Sunday living a life that is quite the opposite?
My walk and my talk should be lining up.
That's the point. Yes, as a Christian, my life should be lived in such a way that others definitely can see that, "Yes, she's a Christian" and my life should point folks to Jesus, but I should also be verbally (and through my written words) sharing Christ with others.
If I claim to be a Christian but can't be recognized as being different from the rest of this world, I wonder how many people I would be leading astray? This pertains to the things I say, the things I do, the things I don't do, the jokes I laugh at, the movies I watch or songs I listen to, the places I go or don't go and the way I treat people.
I will always look at this quote differently now. It's actually now a great reminder to me that I am in this world, but not
of
this world, and that my life should reflect Christ, but I should also be bold enough to be sharing Him verbally too.
And be not conformed to this world: but be ye transformed by the renewing of your mind, that ye may prove what is that good, and acceptable, and perfect, will of God.
Romans 12:2
Thanks for stopping by for Faithful Friday. If you would like to join us, you can link your own Faithful Friday post
here [on Joy's blog]
and be sure to grab the Faithful Friday button from either Joy's blog or from the top of my blog on the "button" page. :)
*******************************************************************************************************
I shared this recipe back in June, but I'm linking it today with
Lois of Walking on Sunshine
for Foodie Friends Friday. I just made this again last week. I usually just add a salad, and sometimes garlic bread. It's one that will stay on my menu planning. It's called Quick Tortellini Bake with Rose Sauce. The recipe came from
passthesushi.com
.
Quick Tortellini Bake with Rose Sauce
And the recipe:
20 oz frozen or refrigerated tortellini
1 tbs olive oil
1 24-oz jar jar of spaghetti sauce of your choice
3 oz cream cheese, softened
1/3 cup skim milk
1 cup grated parmesan cheese, divided
½ teas garlic powder
½ teas dried basil
½ teas dried oregano
1 cup mozzarella cheese
Preparation:
Preheat oven to 350 degrees . Spray one large baking dish or two small ones with cooking spray.
Bring a large pot of water to boil. Cook the tortellini as per the package. Drain.
Meanwhile, stir together the spaghetti sauce, cream cheese, milk, 1/2 cup parmesan cheese, garlic powder, basil, and oregano.
Pour the tortellini into prepared baking dish and cover with sauce mixture. Toss a bit to combine. Sprinkle the mixture with the mozzarella cheese and the remaining parmesan cheese. Bake for 20-25 minutes, until the cheese is melted and beginning to brown.
**************************************************************************************************
I hope to have my interior fall pictures post on tomorrow, even though we're off to see those two precious little nieces of mine! But if by some chance I don't make it, I will have them by Tuesday (Monday is Pinned it Made it Monday). Have a great weekend! :)
~ Blessings ~
♥ Tammy ♥