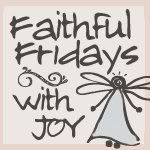 Have you ever seen a mustard seed? It's tiny! I found my bracelet that has a mustard seed just so you could see.
That's a mustard seed.
"He replied, "Because you have so little faith. Truly I tell you, if you have faith as small as a mustard seed, you can say to this mountain, 'Move from here to there,' and it will move. Nothing will be impossible for you."
Matthew 17:20 (NIV)
Today's story is a story of the faith of many praying people coming together for one girl. Her name is Katlyn. Katlyn (14) was involved in an ATV accident the end of May and has been in the hospital for months and only recently got out. Her story is a story of faith and God's mercy and healing and honoring His Word.
Katlyn's parents and the entire community of Ellisville, MS came together in prayer believing and taking God at His Word. They WERE facing a mountain. Katlyn has faced mountains since she came out of her coma. She is a living miracle.
I don't know Katlyn personally but I feel like I do. I do know Mindy, a long-time family friend of Katlyn's family. I met Mindy through my blog (she emailed me and introduced herself) and we have been online friends ever since and are now texting friends too. Mindy emailed me immediately after learning of the accident asking our family to stand together in prayer for Katlyn. I've been keeping up with Katlyn through Mindy by text and email. I've just been so happy for Katlyn's family and have been praising the Lord. I asked if I could share what God has done and Katlyn's parents, Tasha and Trea, want everyone to know what God has done and that they give Him the glory!
This is Katlyn's story.
That's Katlyn in the red shirt.
Here's what the article says:
From prayers to donations, Jones County banded together in support of a local teenager who was injured in an ATV accident in May.
Katlyn Graham was at a friend's house on May 30 when she was injured in an ATV accident. She was trapped under the all-terrain vehicle until nearby utility workers got it off of her. When they did, she was unresponsive.
"When I received the call that Katlyn and her friend had been in an accident on the (Polaris) Ranger, I thought broken leg, arm, etc." recalled Katlyn's mother, Tash Shoemake. "After I got into my car and was headed to the scene, I called the friend's mother and she told me it was really bad but that was all she knew. When I hung up the phone with her, I called my husband and my mom, then started praying that she would be OK."
A neighbor performed CPRS and Katlyn was airlifted to a Jackson hospital, where she spent months recovering.
When Katlyn was admitted to University Medical Center, doctors performed a CT scan on her. Katlyn couldn't talk, but she squeezed Shoemake's hand when asked.
"She kept trying to talk over the ventilator and I kept telling her not to try to talk, that she was going to be OK," Shoemake said. "She kept shaking her head no."
Shortly after, doctors placed a drain in Katlyn's head as a precaution, in case her brain was to swell. Shoemake said that doctors weren't originally concerned with Katlyn's lungs, just her brain. However, the doctors noticed her lungs were no longer giving her body enough oxygen and the ventilators weren't helping.
"They wanted to put her on ECMO (Extracorporeal Membrane Oxygenation), but there are some high risks with a brain injury and ECMO," Shoemake said. "She could have a massive brain bleed but her oxygen level at this point had gotten so low we have no choice....without ECMO, she might not have made it through the night."
The ECMO, which takes blood out of the body and oxygenates it, saved Katlyn's life. After 15 days on the machine, she was back on the ventilator.
"Those 15 days, I still had peace that she was going to be OK," Shoemake said. "I even asked the nurses if they thought she would be back playing soccer by October. They thought it was possible."
When Katlyn was back on the ventilator, she had a feeding tube put in her stomach and was given a trache. Katlyn battled neurostorming and withdrawals daily.
"It was so hard to watch," Sheomake said. "On July 10, my mother's birthday, Katlyn was moved to the step-down unit, and four days later, we finally saw those eyes! It was an amazing day! All glory to God*"
Shoemake didn't expact that Katlyn would go through withdrawals from the medicine she was on or that she would toss and turn in her bed for hours with vomiting and sweats.
"The day finally came when therapists tried to sit her up in the bed," Shoemake said. "She couldn't even hold her head up by herself."
Katlyn was eventually moved to the rehab floor, where she did exercises morning and night.
"The first day she took a few steps was a huge blessing, and the day I heard her voice for the first time was another mile-marker we had waited for," Shoemake said.
On Aug. 30, Katlyn returned home after a three-month stay in the hospital. Graham went outside and chased a soccer ball for the first time since her accident on Sept. 11.
"Last week, we played around in the yard kicking the ball," Shoemake said. "Her leg strength amazes me. I thanked her soccer coach for all the running she made her do because I know having strong lungs was in her favor after the accident."
Katlyn played soccer at the Sportsplex at age 7 and has played ever since. She hopes to return to the field next season.
Sheomake said God deserves the praise for her daughter's recovery.
"Physically, she has some motor skill and speech difficulties that will improve with rehab, mentally she is doing amazing and emotionally she is doing great!" Shoemake said. "She has started homebound school (where a teacher visits her at home twice a week) and physical therapy and occupational therapy at Rehab at Work in Ellisville and speech therapy at the Wellness Center. We are already seeing improvements daily!"
The community donated money, hosted fund-raisers, placed purple ribbons outside their businesses and painted their toenails purple for support and spent countless hours praying for the South Jones High School student.
Today, the teenager is a living miracle to her mother and family and to the community that cared so much for her when she needed it most.
Shoemake said Katlyn's many friends say they miss her smiling frace and "big mouth," which she is well known for because she loves to talk. Sheomake has faith her daughter will receive complete healing.
"The power of prayer is amazing," Shoemake said. "I believe that is why Katlyn is our miracle today. No matter what you are faced with, always turn to God.. Keep your faith in him strong and stay tuned into him daily through prayer and reading your Bible."
Katlyn's mom said it best........the power of prayer is amazing! And God is not a respector of persons and He's the same yesterday, today, and forever! :)
********************************************************
If you'd like to participate in Faithful Friday, you can link your post
here
on Joy's blog! We'd love for you to join us! It's so encouraging to hear other Christians share their faith!
Thank you for stopping by today! Be blessed!