I can't believe it's already Friday! I know I've been a bad blogger this week. I couldn't get internet connection on my computer and had to depend upon the use of someone else's that wasn't always available. And time has just flown since we got home mid-week. We've been trying to squeeze five days of school into three.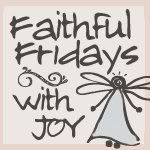 But…..I'm here today, and I'm ready to share a Faithful Friday post with you. What I have to share today came from the other favorite devotion book (of Joy's) that I read this morning. It's not one that is set up on a date by date basis, but instead as letters from The King to His Princess. I mentioned it before here on a Faithful Friday. The name of it is His Princess (Love Letters from Your King).
My Princess…..Your Time is Valuable
The time I have given you is of eternal importance. Your life matters, and the most valuable asset you can give to someone or something is time. Remember, My royal one, I want all of your appointments to be in My perfect will. Not all good opportunities are from Me. Keep in mind, My love, that there may be many ways to make more money, but you can never buy back time. So invest your time wisely. Think about what you are doing and how you spend your precious life. Are your days full of the things that matter most to you? Now is the time to take control of your schedule and live a life that matters. If you will sit with Me, I will help you remove the things that are holding you back from doing what's most needed in this season of your life. There is never a wrong time to do the right thing, so come and experience success with divine direction.
Our people should learn to spend their time doing something useful and worthwhile.
Titus 3:14
This is always something I struggle with in my daily life. I want my time to be spent wisely, first giving God my time, and then giving time to my family, and then also to serving others and for other things as well. But I'm also the type of person that sometimes has a hard time saying "No". Jason has to help me with that sometimes. :) But I'm learning and it's a daily struggle, and it is my desire to treat my time as a valuable gift from God and to use it wisely. :)
I hope this devotion spoke to your heart today as it did mine.
Joy
had the opportunity to spend the night and day with a friend during her friend's fall break this week and is out of pocket today. She asked me to add the linky tool to my blog today so folks can link up for Faithful Friday if they'd like. So if you'd like to join us for Faithful Friday (and we hope you will), you can link up here today on this post. And thank you, whether you are linking up or just stopping by! :)
Have a great weekend! And be blessed! :)