It's Friday and that means it's time for Faithful Friday! I love it!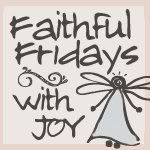 I want to share with you another beautiful "love letter" from the devotion book, His Princess (Love Letters from Your King). I guess you can tell that I love this little book.
I love music. Music has a way of moving me. God speaks to me through music. Therefore, I could identify with this "love letter" that relates God's love and plan for our life to music beautifully written by Him. I hope you enjoy it too and that is speaks to your heart as well.
My Princess……Your Life is a Symphony
You are to Me a beautiful song. Your life is a sweet symphony that I Myself am composing note by note. I take your failures, your tears, and your triumphs, and I turn them into a glorious harmony that will be sung in the heavens for all eternity. All your thoughts and deeds are laid before Me like notes on a page. Every choice you make is a significant chord in an eternal arrangement. Don't let the noise of the world destroy your magnificent melody, My beloved. Seek Me in the quiet stillness of the morning, and I will fill your heart with divine music. Stay in rhythm with My Spirit throughout the day, and I will make your life an irrestible medley that will linger like sweet perfume in the hearts of all that journey with you. Walk with Me in absolute surrender, and you will draw others to Me in a rhapsody of praise.
Love,
Your King and your Composer
He has given me a new song to sing, a hymn of praise to our God. Many will see what he has done and be astounded. They will put their trust in the Lord.
Psalm 40:3 (NIV)
I'm so glad you stopped in today for Faithful Friday. I hope you click away encouraged and refreshed. I'd also like to invite you to visit Joy for her Faithful Friday post and we would love it if you decided to join us with a post as well. If you decide to do so, you can link up with Joy
here
.
Have a wonderful weekend and be blessed! :)
♥ Tammy ♥