Good morning! It's Friday! Everybody loves Fridays! This particular Friday we've been really looking forward to because we're taking a mini vacation to Richie and Missy's house (my brother and sister-in-law) and hope to take that Amish tour!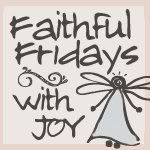 Friday is also a day my daughter, Joy, and I have set aside for Faithful Fridays. It's a day to share our Christian faith……well, every day is a day to do that, but we wanted to specifically set aside one day a week to make a point of sharing. Joy started it a few years ago. We invite you to join us!
Yesterday as I waited in the car for Joy, I picked up her devotion book she had brought along with her, "Jesus Calling – 365 Devotions for Kids".
There's also an adult version, but the kid version is wonderful, even for adults! I like the simple, down to earth language. :) Anyway, yesterday's devotion really hit home and I wanted to share bits of it with you.
Honor and majesty surround him; strength and joy fill his dwelling.
1 Chronicles 16:27 (NIV)
Happines and joy are not the same thing.
Happiness depends on this world, on what is going on around you. Happiness depends on everything being just right…..like when you're headed for that long-time anticipated vacation or you've just gotten a promotion at work, etc…. Happiness is wonderful, but it lasts only a little while.
But joy – true joy – is something entirely different. Joy doesn't depend on this world or whether you're having a good day; it depends on God. Joy is knowing God is in control and that He loves you and will take care of you – even when your family can't afford that vacation or you don't get that promotion. God asks us to stay close to Him and he'll give us His Joy in every situation!
I don't know about you, but that's what I want…..joy that comes only from God…..overflowing bubbling joy.
That reminds me of something else. One day (a few years ago) as we walked in Walmart, we noticed that the greeter's name was Joy. I commented to her that that was my daughter's name who was standing there beside me. She smiled and put her arm around Joy and bent down to her level and told her they shared a very special name and asked Joy did she know what it stood for? (I was just as interested in hearing what she was going to say). And this is what she said:
J. Jesus first.
O. Others second.
Y. Yourself last.
I will never forget it and really that is an excellent definition of joy because if we put Jesus first and get everything in the above order, we will find true joy that comes only from God!
Thank you for joining me today for Faithful Friday. I know (my daughter) Joy would love for you to stop by and visit her too. And if you'd like to participate, you can link up with her
here.
*************************************************
I have to show you what arrived in the mail for me yesterday. It came from
JoAnn of Sweet Pepper Rose.
This is actually the second time she's sent something my way. She is a sweet lady, and VERY TALENTED too.
These are made from Paulownia seed pods! Just look at the detail and time that went into that! And she painted them red! Red.....my favorite! I can't wait to hang these on my Christmas tree. Okay, okay, I'm not rushing Christmas here…..I'm still enjoying fall, but really I will be honored to hang these on my tree! Thank you so much, JoAnn!
****************************************************
And last of all, I want to share another fall photo for
Sandra's 31 days of fall challenge
:
The above picture was taken by a friend of mine, Kim. Kim, a homeschooling mom, is the photographer for our homeschool group. I just love this photo that was taken last year about this time! This one definitely says fall.....and love! :)
♥ Tammy ♥