It's Friday and that means it's time for Faithful Friday...................... :)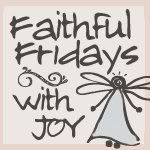 My Princess..............You Are a Vessel For Honor
I am the Master Potter, and you are the clay. I know your desire is to be shaped by Me - to be used by Me. That is what I created you for - to be a vessel of honor. I want to fill you up with My love, My hope, My blessing, and pour you out to quench a thirsty world. Even on those days when you feel broken and empty, I can still use you - as long as you are firmly held in My grasp. I chose you because you have seen your own brokenness and have given every shattered piece to Me. No one can become a vessel of honor by sitting tall and pretty - filled to the brim with pride and self-confidence. Don't be afraid to empty yourself of what you think is valuable, and let Me fill you up with what is invaluable. Let Me hold you, Let Me fill you. Let Me pour out My blessings, through you, and you will experience overflowing joy as My vessel of honor.
Love,
Your King and your Creator
If anyone cleanses himself from these things, he will be a vessel for honor, sanctified, useful to the Master, prepared for every good work.
2 Timothy 2:21
Source:
His Princess (Love Letters from Your King) by Sheri Rose Shepherd
Thank you for joining me today for Faithful Friday. If you'd like to participate, you can link up with Joy here.
Have a great weekend!
Oh, and if you didn't see and are interested, you can sign up for The Bible (Mini-Series) Companion Book giveaway
here on this post
. :)
♥ Tammy ♥