Friday is here again! That means it's time for Faithful Friday. If you would like to link with Joy and share something for Faithful Friday, you can do so by clicking on the button. :)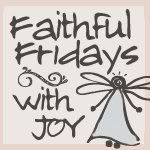 I'm really loving the devotion book, His Princess (Love Letters from Your King) and I know how much they hit home for me, so I'm sharing another one from that devotion book this week.
My Princess.......I'm With You in Times of Trouble
You never need to doubt if I am in the midst of your circumstances. No matter how hot the fire seems, the flames will not scorch you as long as I am present. Just as I was with Shadrach, Meshach, and Abednego in their fiery test of faith, I am here now with you, ready to cool you off and keep you calm as we walk through this trial together. You may not see it now, but you, My princess, will someday be like precious silver that has been refined by fire and purified in My presence. Remember, I did not put you in a fire to burn you out. Trust Me with your troubled heart, and watch Me do wonders for you in the midst of the hottest flames.
Love,
Your King and your Refiner
The Lord is my strength, my shield from every danger. I trust in Him with all my heart. He helps me, and my heart is filled with joy.
Psalm 28:7
Be Blessed! Have a great weekend!