It's Faithful Friday time. :)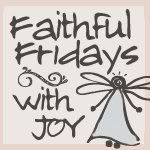 First of all, I used random.org to choose the winner of The Bible Mini-Series companion book giveaway.
And the winner is...........
#1!
Hollie of A New Beginning
. Congratulations, Hollie! :)
And next, I want to leave you with another wonderful devotion from His Princess (Love Letters from Your King) by Sheri Rose Shepherd.
My Princess.....I Will Work Out What's Best
I know what's best for you, and nothing happens without My knowledge. I see your disappointment when things don't unfold in your life the way you had envisioned. But if you could only lift your eyes to heaven and see My hand moving with eternal purposes, you could better understand. Don't forget that your life here is temporary....in other words, My love, you're not home yet. But for now I want you to trust Me in your disappointments, and let Me turn your pain into a passion to persevere. Wait on Me, My love. Don't give up! Rather, give in to Me and My perfect plan for you, knowing that I only desire the very best for you.
Love,
Your King and Father who truly knows best
The Lord watches over you the Lord is your shade at your right hand.
Psalm 121:5 (NIV)
Have a great weekend! :)
♥ Tammy ♥