My days have been mixed up this week because our schedule has been different, so Friday really slipped up on me! But…..today is Friday and that means it's time for Faithful Friday!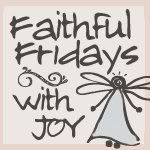 As I was riding my bike last night, I was reflecting over the past few months with our family. As I was thinking, I was remembering the prayers and hopes our family has had and I just felt the Lord gently remind me that even though He doesn't always answer my prayers in the way I (or we) hope or want, He's in control and not to worry. And just to trust Him.
Have no anxiety at all, but in everything, by prayer and petition, with thanksgiving, make your requests known to God. Then the peace of God that surpasses all understanding will guard your hearts and minds in Christ Jesus.
Philipians 4:6-7
When we pray, don't we all desire for our requests to be answered in the way we want? I mean it would be nice to hear God answer "Yes". But….sometimes (often times), His answer is a gentle "No". Last week, we actually got a "No" answer. And it was a blow because we had hopes. But God really does know best. Sometimes that "No" is a temporary one, because it's not His timing. And God's timing is the best because He knows what's ahead. And because His timing is what we want for our lives, we still praise God when He answers "No".
But you know, sometimes I think that the hardest answer I get from the Lord when I pray is "Wait". Those are the times that I wonder what God is doing. I mean I've been praying and waiting a long time, Lord! What are You up to here, Lord? I feel like I'm not getting any direction as to what I should do (or not do). Those are the times that it would be nice if God just would send a big neon sign or something. (Wouldn't that be great)? And it seems like we've been getting a big dose of "Wait" lately. But still even though it's hard, we praise God in the midst of the "Waits" because we know whatever God has planned for us is much better anyway.
One thing I know, whether the answers to our prayers are yes, no, or wait, God is God. He never leaves us. He cares and He knows best. And that is what we can take comfort in and we can rest assured that we are resting in His arms. And that's a safe place.
Do you have something to share for Faithful Friday? We'd love for you to join us. Link up with Joy
here
and grab the Faithful Friday button while you're there. We'd love to come visit you too!
*******************************************************************************************************
I'm also linking up with
Lois of Walking on Sunshine
for Foodie Friends Friday with a recipe from my aunt's church cookbook. It's called Mary Jo's Potatoes. (I have no idea who Mary Jo is.....I guess she's a relative of the lady that submitted the recipe, but I wanted to give her credit). :) Jason loves for me to fix this, so we have it fairly often.
Mary Jo's Potatoes
1/2 stick butter, melted
2 Tbsp. diced onions
2 lb. frozen hash browns
8 oz. cheddar cheese (grated or shredded)
1 can cream of chicken soup
2 cups sour cream
1 tsp. garlic salt
Mix all the above together. Put into 9" x 13" pan and sprinkle with bacon bits. Bake at 350 degrees for 1 1/2 hours.
********************************************************************************************************
If you haven't signed up for my fall giveaway yet, and would like to do so, you can do that
here
.
Today is also our Airplane Day. Wanna know what our Airplane Day is? You can read about that
here
. Twenty three years ago today, we became parents for the first time when Colt, then 5 1/2 months, arrived on a plane from South Korea FINALLY to be home where he belonged, with his family that had been waiting and loving him for so long across the miles! That was a wonderful and beautiful day for us. We sure do love that boy, well he's a man now. I'm so thankful that God chose to grow our family the way He did. That's another one of those "Wait" answers that I spoke about above. And the "Wait" was definitely worth it! Happy "Airplane Day" Colt! We love you! We're so glad you're our son!
Thank you for stopping by today! I would LOVE for you to join me for
Pinned it, Made it Monday
too! Have a great weekend! :)
♥ Tammy ♥