Good morning friends! Are you enjoying your summer? Are you as ready for fall as I am? :)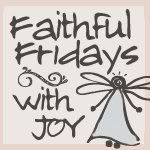 I have been sharing little devotions the past two Fridays from the devotion book that we gave Joy for Christmas,
His Princess (Love Letters from Your King).
I hope you're not growing tired of them, because there's another one I'd really love to share today!
This topic came up in a conversation between Jason, Joy, and me last Saturday night. Then Sunday morning at church, Pastor Alex's sermon was on the very same thing. Joy was asked to read the scripture that day from the pulpit too. And this devotion flows right along with it.
Thoughts are something that we can't always control. I mean sometimes you just can't help what "pops in there". BUT, we
can
help dwelling on them. And God gives us direction as far as our thoughts are concerned:
Finally, brothers and sisters, whatever is true, whatever is noble, whatever is right, whatever is pure, whatever is lovely, whatever is admirable—if anything is excellent or praiseworthy—think about such things. Philippians 4:8 (NIV)
That scripture is one of my favorites!
If we are watching, listening or allowing things in our home that are contrary to true, noble, right, pure, lovely, admirable, excellent, or praiseworthy thoughts, we are setting ourselves up for thoughts that are of the same nature. And here's the thing. Pastor Alex said two things that I want to always remember. I like the way he put it. "Our thoughts are either lofty or they're lowly." And, "the genesis of action is imagination". Boy that's good there! In other words, the things that we act on all begin with a thought. Just take a look at our culture and the things thrown our way. It doesn't give us very noble things to think on, does it?
And the devotion:
My Princess….Guard Your Mind
I want your mind fixed on Me, My beloved. But I want even more from you. I desire great things for you, so I want you to guard your mind by making an "aware list" – all the things you watch, listen to, and read. Let Me show you the things that can carry you away from your calling and destroy your dedication to Me. Even your thoughts can be held captive by the ways of the world. I want to protect you, but I will never force you to listen to My Spirit or make your mind dwell on what is true, pure, and right. The choice is yours, My love. You can have an abundant life, a blessed life – a life of influence for others to follow; or you can join the way of the world. I, your God, am asking you today to let your mind dwell on Me, and you will discover the kind of life you long to enjoy not only now, but forever.
Love,
Your King and Your Peace of Mind
And the peace of God, which transcends all understanding, will guard your hearts and your minds in Christ Jesus. Philippians 4:7 (NIV)
But we don't have to despair when thoughts creep in. God also tells us we can bring those thoughts into the captivity of Christ. He will take them and hold them captive. That's good news. Then we should strive daily to think on those noble, pure and right things. What goes in, we'll think on, and what we think on, we'll act on. Oh how I want my thoughts to be lofty!
We demolish arguments and every pretension that sets itself up against the knowledge of God, and we take captive every thought to make it obedient to Christ. 2 Corinthians 10:5 (NIV)
Won't you join us for Faithful Friday? Grab the button code (from the button page at the top of my blog or on Joy's blog) and link up with
Joy
so we can come visit you too? Faithful Friday is a day set aside to share an encouraging word from your Christian Walk with others.
***********************************************************************************************************
I'm also linking up today with
Lois of Walking on Sunshine
for Foodie Friends Friday. This recipe is so delicious! Of course, it's a Mexican dish, which is my very favorite kind of dish! I'm telling you it tastes like it should be served in a gourmet restaurant! I found it on Pinterest and have made it several times. As a matter of fact, we had it for supper last night. I posted this recipe before, but I'm going to share it again here today for the linky party.
Chicken and Black Bean Enchilada Casserole
Source: The Girl Who Ate Everything; recipe from Allrecipes
2 cups diced or shredded chicken breast meat (or for extra lazy days use a rotisserie chicken)
½ teaspoon ground cumin
½ teaspoon ground coriander
½ teaspoon garlic powder
2 Tablespoons chopped fresh cilantro
1 (15 oz) can black beans, rinsed and drained
1 (4.5 oz) can diced green chili peppers, drained
1 (10 oz) can red enchilada sauce
8 (6 inch) corn tortillas (I used flour ones instead)
2 cups shredded Mexican blend cheese
1 (8 oz) container sour cream
Preheat the oven to 375°. Heat a large skillet over medium heat, and spray with vegetable cooking spray. Sauté chicken with cumin and coriander until chicken is cooked through. Transfer to a medium bowl. Stir in the cilantro, black beans, and green chili peppers.
Spread half of the enchilada sauce over the bottom of an 11x7 inch baking dish that has been sprayed with cooking spray. Place 4 tortillas over the sauce, overlapping if necessary. Spoon half of the chicken mixture over the tortillas, and sprinkle with half of the cheese and half of the sour cream.
Spoon the remaining enchilada sauce over the cheese, and make another layer of tortillas. Layer the remaining chicken mixture over the tortillas.
Cover dish with a lid or aluminum foil. Bake for 30 minutes in the preheated oven.
Remove the cover, and sprinkle the remaining cheese over the top and dot with sour cream. Continue cooking, uncovered, for an additional 5 to 10 minutes, or until cheese melts.
Let stand 10 minutes before serving.
A piece was already gone before I remembered to get a pic!
Thanks so much for stopping by and for leaving a comment! Have a wonderful weekend! :)
♥ Tammy ♥