For Faithful Friday, I wanted to share another devotion taken from
His Princess (Love Letters from Your King).
This one was special to me this week. Guarding my heart from all things coming my way that would tarnish it is always a constant task and it's not easy. But it's so worth it! It's what God asks of us! This "love letter from God" really blessed me this week. I hope it does the same for you.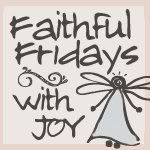 My Princess…..Guard Your Heart
If I were to hand you a fragile, newborn baby girl, I know that you would protect her with your life. Your arms would be strong, your feet sure, and your eyes ever watchful. Be careful, My trusted one! For I have placed something just as precious and delicate within you. It is your heart…your very life! Treasure it. Protect it. Watch over it with all your strength. For the world and all its pleasures are like kidnappers who stop at nothing to steal your heart away from Me and destroy it. I want what is best for you, My treasured one, and although you sometimes feel that the sinful pleasures of this world don't seem harmful, they will separate you from Me. Just as a newborn is helpless without loving care, you also will suffer if your heart is taken from Me. So I'm asking you to guard your heart and cling to Me, the Source of your life.
Love, Your King and your Life Giver
Above all else, guard your heart, for it is the wellspring of life.
Proverbs 4:23 (NIV)
Won't you come join
Joy of Doodlebug
today and grab the button code from her blog (or from my button page at the top)? Just go over and link up a Faithful Friday post with Joy. We'd love to stop by and see what you have to share!. It's all about being encouraging as we share something from our Christian walk. And I think we could all use a little encouragement. :)
Thank you so much for stopping by ! Have a great weekend! :)