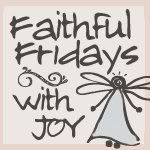 It may not feel like such an honorable "job" when we're caught up in the busy(ness) and sometimes craziness of home from day to day, but I truly believe that being a mother is one of THE highest callings. God loans us our children and raising them to trust and serve Him is a huge responsibility and blessing!
I count it a blessing that even though I'm not
out in the world
making a difference, I am making a big difference when I pour myself into our home and raising our children. My children, husband, and home
are
my ministry. I take this seriously. I'm far from perfect at it, but I love the standard God gives us mothers to follow, as far as striving to be a virtuous woman and mother.
Who can find a virtuous woman? She is far more precious than jewels...
Strength and honor are her clothing, and she can laugh at the time to come.
She opens her mouth with wisdom, and loving instruction is on her tongue.
She watches over the activities of her household and is never idle.
Her sons rise up and call her blessed.
He husband also praises her:
Many women are capable, but you surpass them all!
Charm is deceptive and beauty is fleeting, but a woman who fears the Lord will be praised.

~Proverbs 31:10, 25-30 ~
Who knows, we just might be raising the next Billy Graham, Amy Carmichael, Mother Teresa........ I think about THEIR mothers and how THEIR mothers helped shape who they were.
I love these words of encouragement. We can really use these words of encouragement as mothers!
Rejoice in the Lord always, I will say it again: Rejoice!
Let your graciousness be known to everyone. The Lord is near.
Don't' worry about anything, but in everything, through prayer and petition with thanksgiving; let your requests be made known to God.
And the peace of God, which surpasses every thought, will guard your hearts and your minds in Christ Jesus.
~ Philippians 4:4-7
And I love this one because it even tells us what to do with our thoughts..... :)
Finally brethren, whatever is true, whatever is honorable, whatever is just, whatever is pure, whatever is lovely, whatever is of a good report - if there is any virtue and if there is any praise- think on these things.
~Philippians 4:8 ~

Adding children to our family didn't come easily (or quickly).....they were all quite a journey. I thank God for the gift of motherhood! I stood on and believed this scripture for each one of my children. As a matter of fact, it was posted on my mirror. (I liked the idea that it was plural too).
He settles the childless woman in her home as a happy mother of children. Praise the LORD.
~ Pslam 113:9 ~
Our 3 blessings
And I thank God for MY mother who helped shape me into who I am. She invested her life in her home and children and I am so thankful. She gave me my favorite scripture and instilled it in me.
Trust in the

Lord

with all your heart
and lean not on your own understanding;
in all your ways submit to him,
and he will make your paths straight.
~ Proverbs 3:5-6 ~
My mother
Happy Mother's Day to all the moms out there! Remember YOU do make a difference! You are special! God bless you all!
♥ ♥ ♥ ♥ ♥ ♥ ♥ ♥ ♥ ♥ ♥ ♥ ♥ ♥ ♥ ♥
For more Faithful Friday posts or to link your own Faithful Friday post, visit Joy (Doodlebug )
here.
Have a great weekend!