It's been a really busy week.....our last week of "official" school, although we never really cease school, since it is an atmosphere of learning in our home around the clock. But....... we
ARE
finished with Algebra 1! Yay! This is truly a day to celebrate! :)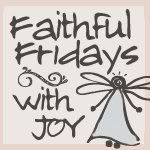 For Faithful Friday, I want to share another devotion from
His Princess (Love Letters from the King) by Sheri Rose Shepherd.
These devotions never cease to bless me! I hope this one does the same for you!
My Princess.........................You are Free to Love
I have set you free to love others, so don't let people who have caused you pain paralyze you from experiencing the joys of love. I know there is always a risk when you give a piece of your heart away, but I've created you to enjoy the gift of special friendships. Choose wisely the ones that you invest your time and energy in, and also give those you love the freedom to fail. Remember that no one will love you as perfectly as I do. If you let Me take the disappointments that come with relationships, you will be free to give and receive love unconditionally. Remember, My princess, most people need love the

most
when they deserve it the
least.
Love,
Your King who is Love
Most important of all, continue to show deep love for each other, for love covers a multitude of sins.
1 Peter 4:8


If you're naturally a people pleaser (as I am), then you know that it can have its share of trials and disappointments. I'm so glad I serve
THE
God of Love! :)
*****************************************
Faithful Fridays are a day to share Jesus and encourage others. If you'd like to participate, or just visit other linked posts, click on Joy's button above. :) If she hasn't gotten her post up yet, just check back.....we are finishing up school today, so she's running a little behind. Thanks! :)
Thanks for stopping by today! Have a great Memorial Day weekend. Since this coming Monday is a holiday, I will not be hosting the Pinned it Made it Monday because I will be on a mini vacation. :)However, I will be back the following Monday. I've decided that if ONE person enjoys Pinned it Made it Monday, even if there are no participating linkers, it's really ok. I received a very encouraging email (thank you Carol) and I will be continuing Pinned it Made it Mondays! God bless you, Carol! I will be emailing you back! :)
God bless you all real good!