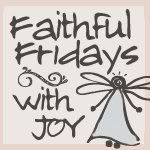 Do you ever just get discouraged and sometimes wonder when your prayers are going to be answered? I know I do. Waiting is never easy!
I was just thinking the last time we were teaching in children's church (we teach every 3rd Sunday during both early and late services) that one particular little boy just isn't giving up on his prayer. Every single time he asks for prayer that his daddy will quit smoking. And I tell him....you don't give up and I can't wait until the day you tell me and the class that your daddy has quit smoking! That's a huge thing to this little 7 year old boy!
And that got me to thinking about an example of this in my own life.
This is my mom and dad. If you've been visiting my blog for awhile, you've probably seen pictures of them before. They are wonderful examples to me.....in life....in marriage....you name it!
Well there was a time growing up when my dad wasn't a Christian and had no use for attending church at all. My mother, brother, and I prayed for him all the time and we never failed to ask him when we were leaving for church if he would go with us. He always declined and he avoided the preacher like the plague. There were many times the preacher was going to stop by and see him and my mom would "warn" him ahead of time and he would leave the house until after the preacher left!
Fast forward many years later when I was a young teenager.........Well one particular evening, he had done this very thing....left the house and gone riding around waiting on the preacher to leave. Well he drove by the house and decided he wasn't going to be run off from his OWN house by a preacher. So he stopped and came in. To his surprise, the preacher wasn't pushy and even had another man with him in jeans and a cowboy hat.....very casual and down to earth and they both talked to him about hunting and fishing. And the other man proceeded to tell my daddy the kind of man he used to be and what God had done for him. And that was simply it. Nothing threatening here, but the seed was planted.
Now fast forward a few weeks from that visit.......All this time, daddy had been doing some thinking of his own, pondering things, and while he was working alone out on a service call, he accepted the Lord as his Savior.
So my point is this, we (my mom, my brother, other friends and family members and I) spent years praying for my daddy to accept Jesus as his Savior. We never gave up!
Don't give up on those prayers or those people you've been praying for! God is faithful to those prayers!


But as for you, be strong and do not give up, for your work will be rewarded."
2 Chronicles 15:7 (NIV)

Let us not become weary in doing good, for at the proper time we will reap a harvest if we do not give up.
Galatians 6:9 (NIV)

"Ask, and it will be given to you; seek, and you will find; knock, and it will be opened to you. For everyone who asks receives, and he who seeks finds, and to him who knocks it will be opened. Matthew 7:7-8 (NASB)
*************************************
For more Faithful Friday posts or to link one yourself, click on the button above to visit Joy's blog! It's all about sharing something from your Christian Walk to encourage others!