It's Faithful Friday time! Faithful Fridays began by Joy ( my daughter) wanting a way to share our Christian faith with the blogging community. She started it around the age of 9. It is meant to be an encouragement and a way to share Christ. I hope you are encouraged and blessed. :)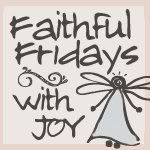 Today I want to share something that really made my day and blessed
me.
Of course, a child can really get to me anyway! This little six year old girl is retelling the "story of Jonah" entirely from memory with no prompts. It's obvious that she loves recalling Biblical accounts (I call them accounts because I tend to think of stories as fairy tales and they aren't fairy tales....they're history). And this little girl (Mary Margaret) loves retelling them with great expression! Her mother states that she is now 8 years old and that she travels to churches telling the "story" of Jonah, the "story" of Noah, and the "story" of David.
It's no wonder that Jesus wanted the little children to come to Him and told the disciples so when they tried to get the children away that had gathered around Jesus.
"People were bringing little children to Jesus for him to place his hands on them, but the disciples rebuked them.
When Jesus saw this, he was indignant. He said to them, "Let the little children come to me, and do not hinder them, for the kingdom of God belongs to such as these.
Truly I tell you, anyone who will not receive the kingdom of God like a little child will never enter it."
Mark 10:13-15 (NIV)
God can use a willing child that loves Him, just as much, if not more so, than grown folks! He's obviously using this little girl.
Anyway, enjoy this beautiful retelling of Jonah's story by a precious Mary Margaret. Love her hairbow! :)
And aren't you glad that God is a God of second chances? He gave Jonah a second chance as well as all the folks of Nineveh. Boy, I know I sure am!
Be sure and check out Joy's and others' Faithful Friday posts by visiting
Joy's blog
.
Be Blessed! Have a great weekend! :)
♥ Tammy ♥