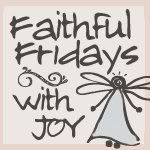 God is good! I'm so happy to say that Joy is feeling and doing much better. We went nearly 17 hours without pain medication! Yay! Praise the Lord for that! Her pancreatic enzymes are in perfect normal range. AND her billirubin count is almost down to normal. Not quite, but almost. We're hoping by tomorrow morning, it will be completely normal!
About the billirubin count. When the doctor was really concerned about that number rising, and was talking about doing the ERCP, she told me that she was watching it closely (with concern). As she continued to talk about it, I told her that it wouldn't rise because we were praying about it. She just smiled and said okay.
Well yesterday she came in and said, "Whatever you are doing, it is working" with her adorable foreign accent. I smiled and told her that it was the power of prayer. She said, "Well it is working." :) By this morning, it was down even more. She says Joy can go home tomorrow if all continues to go well. She says that even though she is still having some pain, all is going well enough to continue the healing process at home. At this point, staying in a hospital where there are many germs floating around would probably be worse for her. I know this is true because since we have been in here, Luke caught a stomach bug (which thankfully only lasted 24 hours, but what a 24 hours!) and I have caught a cold or sinus infection or something.
Speaking of Luke, he has been a trooper, hanging out with us the entire time. He hasn't left the hospital. He is your typical 4 year old energetic boy, but he has found many ways to entertain himself. They have many activities in here - creative arts, a movie theatre, and a wonderful family room that includes a toy room. And thank the Lord for the iPad. He's been able to watch the preschool shows on Netflix. He sleeps with me on the couch while Jason sleeps in the pull out chair. I'm thankful that we've all been able to be here together. If you have to be in the hospital, this one is a good place to be. :) They do everything they can to make it as comfortable as possible for the entire family.
Anyway, I just wanted to give God the glory here for all the answered prayers. And I want to thank you all again for lifting her up in prayer and for the emails of concern and encouragement! We know that God has brought her through this (and us too). I hope we never have another issue with pancreatitis again, but I'm going to do my very best not to worry about it, but to trust God.
I had to show you Joy's nails..... OPI nail polish is the one thing in the gift shop downstairs that Joy loves. Between Grandmama and Pop and us, she's gotten a few polishes. The first time she felt well enough, those nails were painted. :) And she put on her scarf.
And here's -Luke, going until he just fell asleep.....in a most awkward position. :)
Also today is my daddy's birthday.....he's 71 today! They have not missed a day being here and most of the time eating with us for supper in the Family Room. This evening, we just had some cupcakes together. We'll celebrate for real when we get home. Happy Birthday Daddy! :)
Thanks for stopping by. Have a great weekend! :) And again, we can't thank you enough for the prayers for Joy! God bless you all!
♥ Tammy ♥