I couldn't wait until today to share a wonderful must-see movie with you that's perfect for Faithful Friday.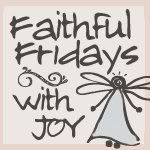 It's called
Last Ounce of Courage
. It's a great family movie and it's an eye opener! We used our 40% off coupon and purchased ours this past Monday from Family Christian.
Here's the synopsis:
A patriotic veteran rallies the citizens of his small town to fight back against tyranny as their rights are slowly stripped away in this politically-charged family drama. Bob Revere (Marshall Teague) knows what it's like to fight for freedom. A small-town war hero, he's heartbroken when his own son Tom loses his life defending America abroad. But Tom left behind a son of his own named Christian, and 14 years later, the young boy and his mother move back to Mount Colombus to be with their family for the holidays. Meanwhile, Christian's grandfather Bob, now the mayor of Mount Columbus, begins to notice that his country is heading in a dangerous direction, and that freedom itself is on the line. As Bob rallies the locals to awaken from their comfortable stupor and fight back against the powers that be, Christian learns that sometimes
the battle for liberty begins at home.
If you too see and are concerned about the moral and cultural downhill spiral that America is on, and the way our freedoms are being taken away one by one, you'll want to see this movie. You'll be aware of what happens when we do nothing, and what a difference one can make. And hey, it gets the Chuck Norris seal of approval! He says its message is consistent with his life principles and core values. (Mine too)! It also comes recommended by soldiers and it gets the Dove symbol as well, which is always a good thing! :)
The movie opens with these words spoken by Ronald Reagan:
"Freedom is never more than one generation away from extinction. We didn't pass it on to our children in the bloodstream. The only way they inherit the freedom we have known is if we fight for it, protect it, defend it, and then hand it to them with the well fought lessons of how they in their lifetime must do the same. And if you and I don't do this, then you and I may well spend our sunset years telling our children and our children's children what it once was like in America when men were free."
And the movie closes with the following words spoken again by Ronald Reagan:
"You and I have a rendezvous with destiny. We can preserve for our children, this, the last best hope of man on earth, or we can sentence this generation of young people to take the first step into a thousand years of darkness. If we are destined to fail, if this way of ours is to be lost, then at least, let our children and our children's children say of us that it didn't fall because we failed to try. Let them say that at least, we did all that could be done in the one moment allotted us here on earth."
Wow, huh?
If you'd like to read more Faithful Friday posts, or participate, you can click on the Faithful Friday button above.
Thank you for stopping by for Faithful Friday! Have a wonderful weekend! :)
♥ Tammy ♥