At last.....our sunporch redo dream became a reality! I have been so excited over this room. It's the first room we see when we come in from the carport. We have to pass through the sunporch to enter the house through the backdoor into the kitchen. I really wanted a cheerful, warm and inviting room!
We've had this room built on for years now, but it always just felt like a "detached" part and was an eyesore...with ugly linoleum (I can't believe I ever liked it...white of all colors!). That floor showed dirt in every groove! It also had very outdated wallpaper.
The ideas were rolling around in my head, but we had to wait a bit because of budget limitations. Jason wanted to completely tear out the walls and practically start over when we did decide to go for the remodel because we had some leaking problems around some of the windows.
So.....it all started last July. My friend, Kim, came over (who loves to decorate too by the way). I took her out on the porch and bounced my ideas off her. She took a look at the linoleum and decided it would come up very easily. So while our husbands sat inside with NO IDEA what we were doing (remember I WAS just going to show her the room and just share ideas!)....we grabbed a corner and just started pulling up linoleum. It DID come up easy but the part that followed wasn't so easy. I wish I had thought to take pictures (once you blog...you think of all those things). It was a mess under that linoleum!
We decided to stain the concrete floors so they wouldn't show dirt and so they could take a little abuse since it is a transition room from the outside to the inside. The hardest part was getting up glue from the old linoleum. We rented a sander and scraper (I believe it was called). My dad came over and worked and worked with that machine along with Jason. It left grooves where there had been glue because it was basically glue baked on by the years it was down with the sun shining in the windows on it. We finally got to the staining stage...coca cola red. Although, on a perfect concrete floor (with no previous glue), it wouldn't have looked this way...it turned out distressed. Luckily I LIKE distressed and it just worked fine out there for me. I like it more everyday because it is just so user friendly...doesn't show dirt much at all and we come in out of the pool into this area.
Here's a picture of the "distressed" stained concrete floor:
The next step was Jason tearing out all the walls and just beginning again...correcting places where there had been problem leaks and putting the windows in all over again. Joy and I got the job of scrubbing them down from years of insects and gunk in the corners! This was the longest phase because he and my father-in-law could only work on weekends (when we weren't already committed to other activities that is). This stage was hard because it was so ugly coming through this room everyday...and it was all through the Christmas holidays at that. I could picture the prettiest Christmas tree greeting me out there if only it was finished!
Then came my dad's part. He can do electrician work so he came in and put in all the outlets. I made sure to request plenty of outlets and he obliged. I wanted plenty of options for lamps and Christmas trees!
The next part was putting all the old cedar trim back up around the windows. By this time, it was late February/early March.
Finally in late March, we got to the fun part (for me anyway)....the decorating decision part. Jason put up beadboard. I picked a yellow...Chesapeake Sunset...from Lowe's. I mean I had lived with this color..looked at this color...for months and months..and it was perfect (I thought). Well when it went on...it was just too bright, especially against the cedar wall out there.
Here's a picture of the yellow when it first went on out of the can: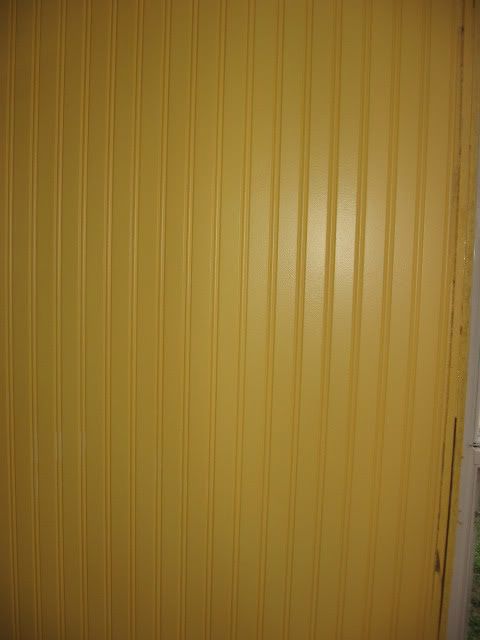 So we bought antiquing glaze and after several attempts (and painting over it again)...Jason found a brushed on effect that we liked. So..we primmed it up by distressed the paint on the beadboard and on the back door with the antique glaze. This shade of yellow (more muted) just complimented the cedar and the stained concrete floors so much better. It reminds me of an aged sunflower.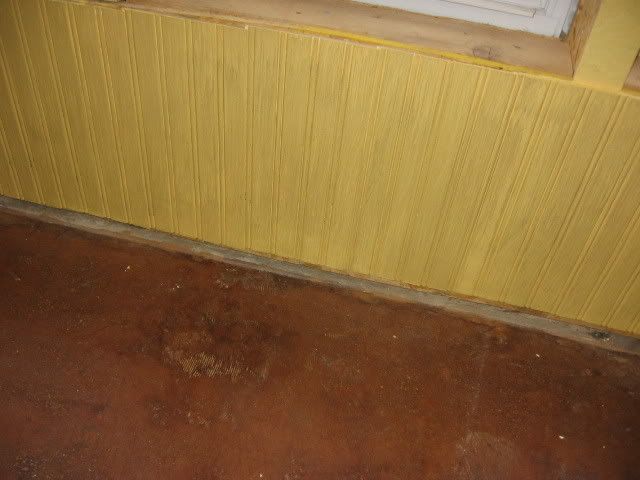 Here is a picture after we added the glaze. My dad came over and saw it and thought we didn't get good coverage and that it needed another coat! He was a little surprised when I told him that's how we wanted it to look!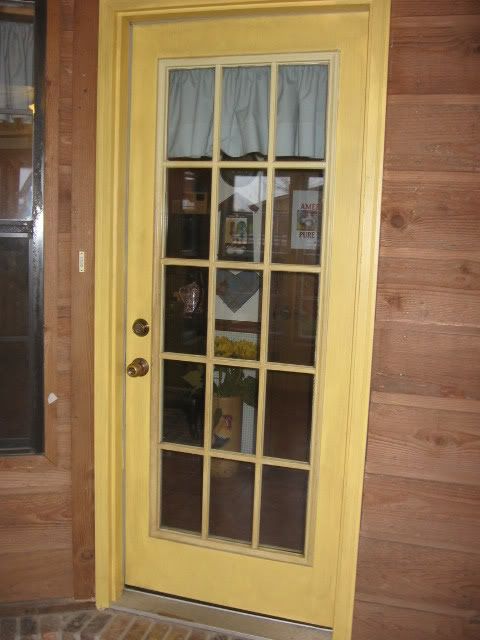 Come to think of it, I bet our UPS man thinks we're pretty strange. He's seen this porch in all sorts of stages because it's where he leaves our packages. I imagine he was pretty surprised the last time he came and it actually looked like a room!
So with all the walls, windows and floor ready, it was time for me to have fun...let the decorating begin! If you'll come back tomorrow (for part two) I'll share pictures of the decorated sunporch....finally reality!