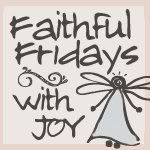 I don't know why I'm ever surprised, but God always gives me just what I need, just when I need it. I know we all wish we had more at times, or wish we could change something about ourselves at some point, but the truth is God made us the way he wanted us. And he gives us what we
need (
and sometimes even our wants)
. And our worth is not in things or our image, but in Him.
This is another little devotional from
His Princess (Love Letters from Your King) by Sheri Rose Shepherd
. I hope it blesses you today too!
My Princess....Walk in My Confidence
I
know the world whispers in your ear that what you possess defines who you are, and what you look like determines your worth. This is a lie, My love. The generations to come will never remember you for the things you accumulate or the efforts you placed in your appearance. In fact, the harder you strive to collect more things and to perfect your image, the more insecure you will be about who you are and why you are here. I am in you and you are in Me. I will give you all that you need. Now go and walk through your world in the confidence that I've uniquely equipped you with all you need to impact the lives of those around you forever!
Love,
Your King and your Confidence
For the Lord will be your confidence, and will keep your foot from being caught.
Proverbs 3:26
*******************************************
To link up your own Faithful Friday post, click on the Faithful Friday button above. Be sure and stop by Joy's blog anyway and check out all the other Faithful Friday posts! And thank you
Joy
, for hosting this wonderful way to share our faith with the blogging community! :)
Have a great weekend!
Be Blessed,