I love Faithful Fridays! Friday is just a good day anyway and
every day
is a good day to share our faith! :) My daughter, Joy, started Faithful Fridays several years ago as a way for us to do just that...... by setting aside one day a week to share something from our Christian walk so we can encourage and bless one another!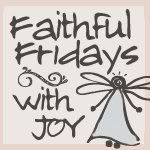 This week I've had a song on my mind a great deal. Maybe it's because Jason had it on replay and I heard it a zillion times while we were working on repainting our hallway. And then it seems every time I got in the vehicle to go somewhere, it would play on the KLove. That's a good thing though. You know the first time I hear a song, the tune and beat get my attention. And THEN I focus on the words. And this song has great lyrics! It speaks volumes! And it's yet another one by Mandisa.
In this world, we get down. We go through stuff. We tend to let circumstances pull us down. It's human nature.
But thanks to Jesus, we don't have to stay there! We don't have to stay at the bottom or go under. God is there to pull us up and He tells us that we are overcomers because of Him. He has overcome the world and because of that we can rise above any of our circumstances, trials, or tribulations. We can have peace and even joy because WE are overcomers through Jesus!
I have said these things to you, that in me you may have peace. In the world you will have tribulation. But take heart; I have overcome the world."
John 16:33
For everyone who has been born of God overcomes the world. And this is the victory that has overcome the world - our faith.
1 John 5:4
No, in all these things we are more than conquerors through Him who loved us.
Romans 8:37
Just know you're not alone! We've all been there. I've been there many times. We had some low times this past week. You might be there today! It's not hopeless! You ARE an overcomer! Don't quit. Don't give up! Hang on to His promises! He is faithful!
******************************
**Note** This must be something God really wanted to be shared because without knowing it, Joy and I posted on the exact same subject. And then again, this song and these scriptures have blessed us this week and strengthened us! :) I love when God works like this!