So sorry......I'm running a little behind with my post for Faithful Friday today. But I've known since mid-week what I wanted to share!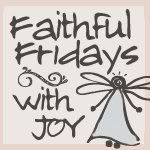 I know I've said this before and discussed following God's Will, but sometimes that is SO hard for me. I tend to like to have a little control over my life. Big surprise to those that know me! :) Or I like to help God along with it. :) One of the hardest things for me is knowing when to take a step in a certain direction and just trust God with it and when to just stand still and wait for God to show me in a big no-fail way for me to understand what His Will is for that moment. This is something I struggle with, almost on a daily basis.
There are things in my life that I have been praying for quite awhile now and I feel like I still have no direction from the Lord to take a step in that direction. And sometimes being still feels like I'm being stagnant. But there's a big difference between being still and stagnant. And I've learned that I can't trust my feelings. I must rely on God.
God knows. And that's where I find my comfort. There are many things that I have prayed and am still praying for now that I just have to say, "God you know more than me what's going to happen with this situation or circumstance in my life, even though I think I know what I need for you to do, so would you just please help me know. Help me find your Will and make sure I know it because I WILL follow it if I know it's definitely what You want for me. It's the knowing what His Will is that is hard sometimes. I mean I know about alot of the BIG things because He shows me in His Word. But then there are those little things....things that really have no real moral right or wrong answer, but the real direction lies in what path God would have me take. And THAT makes all the difference.
As you know I love this verse......one of my very favorites! It says alot and I try to live my life according to it, even when it's not easy.
Trust in the Lord with all your heart, and lean not on your own understanding; In all your ways acknowledge Him, and He shall direct your paths.
Proverbs 3:5-6
But this song really strummed a chord with me and I listened to every word and said, "that's me Lord...that's what I want". It could be my lifesong! It's called
Help Me Find It
by Sidewalk Prophets. Just listen to the words. (They really bring tears to my eyes.) It's about complete surrender.....we give him fear and He gives faith. We give him doubt and He gives grace. It's about trusting Him in valleys! He never fails us!
For some reason, it won't upload the video for this from you tube, but click
here
to listen.
"Help Me Find It"
I don't know where to go from here
It all used to seem so clear
I'm finding I can't do this on my own

I don't know where to go from here
As long as I know that You are near
I'm done fighting
I'm finally letting go

I will trust in You
You've never failed before
I will trust in You



[Chorus:]


If there's a road I should walk
Help me find it
If I need to be still
Give me peace for the moment
Whatever Your will
Whatever Your will
Can you help me find it
Can you help me find it

I'm giving You fear and You give faith
I giving you doubt
You give me grace
For every step I've never been alone

Even when it hurts, You'll have Your way
Even in the valley I will say
With every breath
You've never let me go

I will wait for You
You've never failed before
I will wait for You



[Chorus]



I lift my empty hands (come fill me up again)
Have Your way my King (I give my all to You)
I lift my eyes again (Was blind but now I see)
'Cause You are all I need



[Chorus]
One day I know that I will know
the why
behind I wait or
the why
behind the heartache or trouble, but in the meanwhile, all I know is that I choose to trust God because He is greater than any fear I have and He knows me better than anyone. He has never failed me before and He won't fail me now.
God won't fail YOU either. So just know that whatever it is that you feel like you're waiting on direction from the Lord in.......just hang on, trust Him, no matter if that means taking another path, or just being still for the moment. As hard as that is sometimes, it IS possible to have that peace in the middle of the circumstances because God is there with us and He will help us find His Will when we ask and trust Him. In a way, it's liberating really because we know we can't possible do anything about it, so all we can do is to sit back and watch what He's going to show up and do. We just ask for help in finding His Will and then see what God will do.
I just had to share this song and these words today. This is NOT easy for me.....not knowing....waiting or being still for the moment. But I believe it!
I hope you are blessed by these words and scripture and the words of this song too. For more Faithful Friday posts, click on the button above to visit Joy's blog! Or even better, link up your own post! :)
Thanks for stopping by today! God bless you.....and have a great weekend!