Faithful Friday is a day started and set aside by my daughter, Joy, for sharing something from our Christian Walk in hopes of encouraging others. You can join too and link a post by clicking on the button below. :)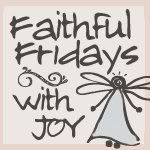 I think it's safe to say that we all have struggles from day to day, even as Christians. Just because we are Christians doesn't mean that everything is all rainbows and unicorns. Our lives aren't going to be perfect. We will have struggles just like everyone else, BUT we have His promise that He's there to help us weather those storms.
Whether we're a stay-at-home mom or have a job outside the home, our stress level rises and it's easy to feel like we're sinking further and further and just can't rise above our circumstances or dig our way out. Some days I just feel like things are piling up so much, whether that be reality or things I've let accumulate in my mind, emotionally.
Our children's pastor brought the message at church a couple of Sundays ago and read a verse that is a promise to us, and even printed it on a business card and gave them out to everyone in the congregation. I've been carrying mine (in my purse) with me everywhere. It's a promise from God to cling to on those days that we feel like we're sinking or even drowning in our sea of stress, disappointments, or problems. I want to share it with you. Print it out. Post it on your mirror. Carry it with you. Let it comfort you and give you the security that you're never alone. God is there! He cares!
When you pass through the waters, I will be with you; and when you pass through the rivers, they will not sweep over you. When you walk through the fire, you will not be burned; the flames will not set you ablaze.
Isaiah 43:2
I don't know about you, but that is exciting to me! It also reminds me of one line of a song that I absolutely love. I can't wait to hear that line every time that song comes on. It always send chills over me and brings tears to my eyes. (God really uses music to speak to me). :) Have you heard Mandisa's song - Stronger? One line says, "Go on...fall into the arms of Jesus!" That one line carries a powerful and encouraging message to me. I imagine the faith of a child that so completely trusts her father that she falls back into his arms knowing 100% that he will catch her....... or she runs into his arms when she's scared or tired and is so sure that she is completely safe and secure then because he is there....he's got her......and everything is going to be alright. Her daddy will take of her and he'll never let anything happen to her. That's what I imagine and it's such a security to me. God does that for us!
So when you feel like circumstances are overtaking you, bringing you down, and you're sinking.......Remember his promise......
When you pass through the waters, I will be with you; and when you pass through the rivers, they will not sweep over you.......
Go on.....Fall into the arms of Jesus! :)
(If you haven't heard the song,
Stronger
, by Mandisa, you can listen to it
here
.)