It's Faithful Friday time!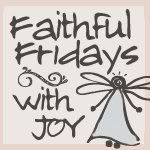 Today, I prayed about what I should share....because I was really having a hard time with what I should or needed to share. You know.......some days you just need a boost yourself and this was one of those days! So I did what I have done times in the past....I prayed, went to my favorite devotion book,
His Princess (Love Letters from Your King) by Sherri Rose Shepherd
because I love how personal this devotion book is and how it always hits me right where I need it. And God comes through every.single.time. I asked God to give me exactly what I needed today and what He'd like for me to share. So this is it. I even spoke these exact words to Luke today over another issue....
it's okay to cry
:) Funny how God uses my exact words to give me His Word for the day! Thank you Lord for taking time to reveal Yourself to me today!
My Princess.....It's Okay to Cry
I see how hard you try to handle your heart, and I know you want to live a life without heartaches or pain. I'm asking you to take a step closer to your Father in heaven by crying out to Me when you hurt. Let Me heal you. Remember My chosen, King David? He cried out to Me in his fears, disappointments, and sin, and I answered. You are also My chosen one, and you are My daughter....so it's okay to cry. I don't expect you to pretend that pain is not real. It is truth and tears that will give you the freedom that I want you to know. Now let go of that part of your heart that only I can heal. Let your heavenly Daddy hold you while you cry.
Love,
Your King who wipes away your tears
Those who sow in tears will reap with songs o fjoy.