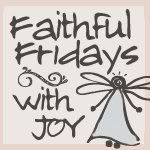 "Teach them to your children, talking about them when you sit at home and when you walk along the road, when you lie down and when you get up."
Deuteronomy 11:19
I love this Bible verse! It's a great reminder that as parents, we have a huge responsibility to teach our children everyday, from the time we rise until we lie down at night. We should be teaching our children God's ways - what He's done for us and to trust in Him. We can't depend on the church to do this. It is OUR responsibility. This is a constant daily thing that just takes place naturally as we go about living our lives making the most of every teaching opportunity - explaining choices and consequences as well. And teach them WHY we believe what we believe! This is important.
In another place in Deuteronomy it says to do it diligently, "lest they forget". In today's society, forgetting is happening everyday. And there will always be someone else or something else to replace what they forget with their philosophies or beliefs.
It's easy (if you're a stay-at-home mom especially) to think that what we do doesn't make a difference, but we are! Our children - our family - ARE our ministry and this verse is a great encouragement! I hope it encourages YOU! Parenting is a wonderful ministry! I think it's the best!
We might not change the world but we might be raising a world-changer! :)
Be encouraged!
*************************************
I'm linking with Joy for Faithful Friday. We'd love for you to join too. Click on the button above to join or just read more Faithful Friday posts! And have a great weekend! :)