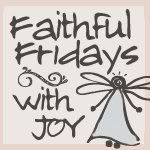 I'll have to admit to you that I've been down-hearted this week, and as a result, I've been grumpy….especially with my kids. I just had to apologize. How thankful I am that they so easily forgive me and love me unconditionally!
The election has left me emotionally exhausted and burdened, and honestly I've not felt much like blogging, or much else. I'm ashamed to say that, but it's the truth.
But……………. :)
After school this morning, I picked up the devotional book,
His Princess (Love Letters from Your King) by Sheri Rose Shepherd
and I asked the Lord to give me
something I needed to hear today
…..something to help my worries and my down-heartedness. Yes, sometimes I just need God to show me things in this way. I need neon signs! And this is what He gave me! Oh how good He is!
My Princess…….Pray with Power
My powerful princess, do not waste your walk through life today. Open your spiritual eyes. Prayer is needed everywhere. Anywhere you walk today I can and will order your steps, if you will let Me. Pray while you're driving, while you're cooking, and while you're doing laundry and running errands. Of all the weapons in the world, prayer is your most powerful resource. Don't let the day begin or end without letting your prayers to Me pave the way in all you do. Wherever you go, remember that part of your royal privilege is raising your voice to heaven. So hold on to the promises that are yours and pray!
Love,
Your King and Intercessor
Pray at all times and on every occasion in the power of the Holy Spirit. Stay alert and be persistent in your prayers for all Christians everywhere.
Maybe this was meant to encourage one of you today as it did me! God is surely in control, no matter what, and He assures us that there is power in prayer! Praise Him!
I hope you'll stop by and visit
Joy
also today for Faithful Friday. And if you would like to participate, you can link up while you're there!
Have a great weekend! God bless you! :)
♥ Tammy ♥