It's Friday and I wanted to pop in here with a Faithful Friday post. Since
Joy
is in the hospital, I will put the linky tool on my blog. If you would like to participate, we'd love for you to do so. The only difference today is that you will link up on my blog.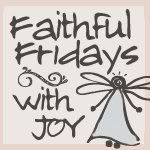 Thank you so much for all the prayers and the thoughtful comments left for Joy. We appreciate them all! Joy is doing better than she was when we came to the ER. Her pain is not constant and not as severe, although she is still having some. This time, her pancreatic enzymes are not elevated. This has us all stumped because her symptoms are exactly the same. They have been checking many things including appendicitis. They found it to be large, but no other symptoms of appendicits, so they're ruling that out too.
I'm thankful that the pancreatic enzymes aren't elevated, yet we just don't have answers. That part is frustrating and scary to Joy because she doesn't know why she's hurting but they are telling what it isn't this time. I think she's afraid of going home and still having pain. Anyway, that's where we are. Thank you SO much for praying. We feel the prayers and know God is in control!
We can look around us if we start to feel down though and see others going through so much more! The boy that Joy mentioned last time she was in the hospital, is back in the hospital again and has been for some time. His name is Brandon and he has Krohn's disease, which is a very painful thing. He has spent so many of his days in the hospital and yet his attitude could teach us a thing or two! And just yesterday we met another 15 year old boy, Skyler, who has been in the hospital for 2 months. He had a liver transplant and developed complications almost not making it 3 or 4 different times. He still doesn't look well. They live about 9 hours away. That breaks my heart thinking of how far they are from home and family! Anyway, this just reminded me that no matter what trials come our way, there is always someone else going through so much more. It's good to take a look at the positive and just give God praise. There are always blessings to count. When you're praying for Joy, would you remember Brandon and Skyler too?
Thank you for stopping by for Faithful Friday! Have a great weekend! :)
Blessings,
Tammy