Hi there! It's still Friday, so I'm sneaking in my Faithful Friday post! I sincerely apologize for missing the last two Fridays. Gosh, time just gets away from me! Thanks for sticking with me! :)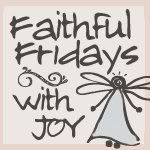 There's a song by Christian Contemporary artist, New World Son, that I just love. As usual, the tune got my attention first, and then I really focused on the words. And these words I've read in the Bible many times and heard spoken in sermons, but something really clicked with me one particular time I was listening to it. The name of the song is
There is a Way
.
It was like a light bulb moment for me as to what those three words really meant to ME. First of all, Jesus is the (only) Way. If you don't know what to do, which way to go, what path you should take.......Jesus is the answer. To me, not only does this apply to Him being the way to salvation (to heaven), but also in showing us the path He'd have us take in this world, even in the little things. God's Word says Jesus is the Way. Wow! It's as simple as that. We can pray and trust in Jesus because he IS the Way!
Next word......the Truth. In this world we live in, there is so much surrounding us that's not real. People will disappoint us; people are dishonest; they let us down, and they hurt us. There's just a lot of deception out there. But again, we have the privilege of turning to Jesus, because He IS the (only) Truth! Another big Wow! We can depend on Him (and only Him) for truth in every situation. He won't disappoint, deceive us, or let us down....EVER!
And then the third word.....the Life. That's the best one yet! He is the (only) one that gives us life. And the life He gives is the only life worth living! And because the life He gives, when we accept it, we have an eternal home in heaven! That's not just happiness here, that's forever happiness! :)
See how loaded those three words are! Maybe you have already experienced the fullness of those words, but it was one of those "aha moments" for me at just how powerful those three words that describe Jesus are! I worry too much, when I have the Way, the Truth, and the Life right here with me everyday! :)
Jesus answered, I am the way and the truth and the life. No ones comes to the Father except through me.
John 14:6 (NIV)
Thanks for stopping by today! Have a great weekend! :)