It's still Friday....and I'm so happy to join in with Joy's Faithful Friday today! (I always feel defeated when I miss it!) :(
This is what's on my heart this evening!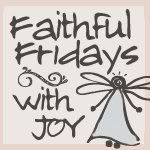 Sometimes it just plain hard being a Christian in this world. Let's face it! We face trials. We encounter temptations. It's easy to think, that as Christians, we should be "above these things", as in not having to deal with them. Our family was just discussing this the other day. God never said being a Christian was easy. If someone says it is, they are misleading you!
The devil works hard and overtime on Christians using trials and temptations. And it's easy to get down trodden when these things come our way.
The only thing that comforts me in all of this is that even Jesus, as perfect as He was, was tempted. And we definitely know he faced trials. So it just makes me think if Satan takes time to pick on a Christian with temptations and trials, he/she must be doing something right for God's Kingdom.
Consider it pure joy, my brothers and sisters, whenever you face trials of many kinds, because you know that the testing of your faith produces perseverance. Let perseverance finish its work so that you may be mature and complete, not lacking anything.
James 1:2-4 (NIV)
And Jesus showed us the way to combat and deal with these temptations - with God's Word. Jesus threw scripture right back at Satan. So that's what we can do! We simply come back with scripture, God's Own Words of promise and comfort. It reminds me of that quote, "When Satan reminds you of your past, you just remind him of his future!"
One of THE hardest temptations and trials to deal with is
thoughts
. Like Joy said the other day when we were talking about this, "you can't get away from your thoughts." And boy, does Satan try to use that to bog us down. But....we even have a scripture for that too!
We demolish arguments and every pretension that sets itself up against the knowledge of God, and we take captive every thought to make it obedient to Christ.
2 Corinthians 10:5 (NIV)
So if we allow Him, Jesus takes those thoughts and binds them up right then and there. We just ask Him to take those thoughts to be submissive and obedient unto Him.
And that's not to say that there won't be more thoughts, more trials,and more temptations because we are constantly "fighting the fight" and "running the race".
BUT......we just keep on keeping on because we have Jesus and His Word. We never fail when we start over fresh each time with Jesus because He forgives and extends His grace and gives us the sword, His Word (the Bible) to fight off these temptations.
I have fought the good fight, I have finished the race, I have kept the faith.
Be strong in the Lord and in His mighty power. Put on the full armor of God so that you can take your stand against the devil's schemes. For our struggle is not against flesh and blood, but against the rulers, against the authorities, against the powers of this dark world and against the spiritual forces of evil in the heavenly realms. Therefore put on the full armor of God, so that when the day of evil comes, you may be able to stand your ground, and after you have done everything, to stand. Stand firm then, with the belt of truth buckled round your waist, with the breastplate of righteousness in place, and with your feet fitted with the readiness that comes from the gospel of peace. In addition to all this, take up the shield of faith, with which you can extinguish all the flaming arrows of the evil one. Take the helmet of salvation and the sword of the Spirit, which is the word of God.
Ephesians 6:10-17 (NIV)
Be Encouraged!
♥ Tammy ♥