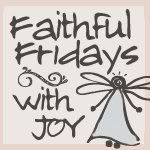 Have you read
The Screwtape Letters
by C.S. Lewis?
I'm not finished with it yet, but it is such a great book...a timeless classic.....really an eye-opener as to the many ways Christians are being "tripped up" in our everyday lives!
If you're not familiar with the book, it is written in the form of letters from a "demon" corresponding to his nephew instructing him in wordly-wise subtle ways to "trip up" Christians so as to win them over (or in this case, one particular young man). He uses tactics such as thoughts, temptations, actions, beliefs, intellect, and much more.
It reminded me to be more aware that there is spiritual warfare going on around me constantly, and that I have to stay anchored in Jesus and His Word and be on guard to the Temptor's guiles and ways.
Here's an excerpt from what I read this morning that especially caught my attention (The uncle demon, Screwtape, is telling his nephew demon, Wormwood):
"Think of your man as a series of concentric circles, his will being the innermost, his intellect coming next, and finally his fantasy. You can hardly hope, at once, to exclude from all the circles everything that smells of the Enemy: but you must keep on shoving all the virtues outward till they are finally located in the circle of fantasy, and all the desirable qualities inward into the Will. It is only in so far as they reach the Will and are there embodied in habits that the virtues are really fatal to us."
Wow! Keep shoving the virtues out - this is exactly what is happening! This is our culture today. Also the Bible is being pushed to the "fantasy" circle where it has become just stories - instead of accounts from history! Oh, there are so many ways this is true!
If you haven't read this book, you really should add it to your reading list. Satan really is working over-time and we don't even have a clue as to all the ways. This book is an eye-opener!
We CAN overcome though!
Finally, brothers and sisters, whatever is true, whatever is noble, whatever is right, whatever is pure, whatever is lovely, whatever is admirable—if anything is excellent or praiseworthy—think about such things.
Philippians 4:8
I have told you these things, so that in me you may have peace. In this world you will have trouble. But take heart! I have overcome the world.
John 16:33
********************************
You can link up or read more Faithful Fridays posts on
Joy's blog
by clicking on the Faithful Friday button above!
Thanks for stopping by. Have a great weekend! :)